March into Europe Market- Intersolar Europe 2022
Categories:FEB NewsDate:2022-05-15
FEB showcases energy storage strength in intersolar Europe 2022

Intersolar Europe, the Germany solar energy technology Expo, kicked off at the new international exhibition center in Munich on May 11 local time. Far East Battery Co., Ltd., subsidiary of Far East Smart Energy Co., Ltd. (hereinafter referred to as Far East Holding, stock code: 600869), participated in the event with core products.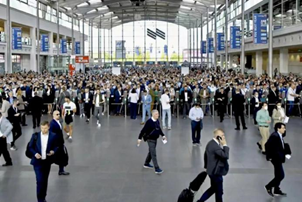 Exhibition hall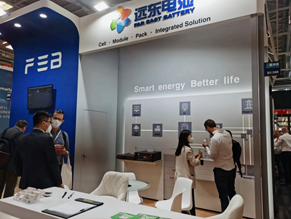 FEB Market specialist introduced products to prospective customers
On the first day of the exhibition, FEB products, e.g., cylindrical cells, pouch cells, wall-mounted modules and stackable modules for residential ESS were popularized among visitors. FEB has been engaged in the lithium battery industry for more than ten years, and is always ready to quickly respond to customer demands on tailored service, high-reliability products and green-energy solutions with its comprehensive and mature production service system.
FEB Residential ESS Series
FEB HV Stackable Residential ESS
FEB-HV5120-S1, FEB flagship product of HV stackable residential ESS series, is tailored for European market. It adopts safe and reliable LFP cell, and has the advantages of high charge-discharge efficiency, 6000 times of cycle life, IP55 protection degree, all-round intelligent BMS protection, safe use, modular and integrated design. FEB-HV5120-S1 not only can be applied to various scenario but also can realize flexible scalability to increase battery capacity from 5KWH to 30 KWH, thereby bringing more convenience for residential energy storage. Modular design and stackable installation further simplify installation, operation and maintenance, and save more spaces for users. Smart management is another advantage. As for operation and maintenance, monitoring website and cellphone APP can be utilized to supervise operation conditions. Characterized with high performance, good flexibility, high safety and smart management, it become the hot product on the exhibition.
At the very beginning of tapping the potential of energy storage market, FEB has been focusing more attention on the exploration of European market, and dedicating to deliver high-efficient and diversified products to meet customer needs. Against the backdrop that Germany had planned to achieve energy transition ahead of schedule, the photovoltaic market in Germany will embrace a new round of vibrant growth, which will boost the development of photovoltaic industry in EU countries. FEB is always prepared to seize industrial opportunities, continues to take the approach of exploration and innovation to deliver high-quality products, and spares no effort to increase its share of overseas market to expedite internationalization.