Deepening Exploration of Energy Storage market, Promote the Realization of Double-carbon Goals
Categories:Date:2022-06-05
Deepening Exploration of Energy Storage market, Promote the Realization of Double-carbon Goals
The R&D project of novel LMFP cell with the characteristics of high safety, long service life and wide temperature range, was initiated by Far East Battery Jiangsu Co., Ltd. (a branch company of Far East Smart Energy Co., Ltd., hereinafter referred to as Far East Holding, stock code: 600869), and has been successfully listed in Yixing 2021 special fund supported S&T innovation projects released to the public by the Management Committee of Yixing Environmental S&T Industry Park.
Against the strategic background of carbon peak and carbon neutrality, the development of renewable energy and energy storage follows the trend of times and gains more momentum. By the end of 2021, the cumulative installed capacity of global energy storage projects that have been put into operation is 200GW, with a year-on-year increase of 1.9%, of which pumped storage accounted for 90.3% and electrochemical energy storage accounted for only 7.5%. Compared with pumped energy storage, electrochemical energy storage has the advantages of higher efficiency, less dependence on external environmental conditions and broader prospect of development, and will replace pumped energy storage to a great extent in the future. Therefore, it is of great significance to design and apply as fast as possible cell products with excellent performance and applicable to energy storage system.
To meet market demand on high-quality electrochemical energy storage system, FEB focuses more attention on the technology of novel LMFP cell with the characteristics of high safety, long service life and wide temperature range. Starting from system design, FEB tackles problems in key technologies to overcome the disadvantages of poor conductivity, less cycle times and high cost of LMFP, dedicates to designing pouch cells with excellent performances and applicable to energy storage systems, in an endeavor to contribute to the high-quality and sustainable development of the energy storage industry.
Besides, FEB has laid a solid foundation for the research and development of energy storage products, which is attributable to an R&D team with senior technicians of doctor and master degree at its core; besides, FEB has established an Industry-University-Research Collaboration relationship with key universities/ academic institutions such as the Chinese Academy of Sciences, Tsinghua University, Fudan University, Zhejiang University, and undertaken the establishment of national post-doctoral research workstations, academician workstations and other R & D technical service platforms. FEB continues to step up its efforts to further enhance the safety and improve the cost performance, low-temperature performance and cycle performance of LMFP cell by applying small-particle LMFP materials, developing functional electrolyte, carrying out dry kneading process, and developing the LMFP composite cathode system.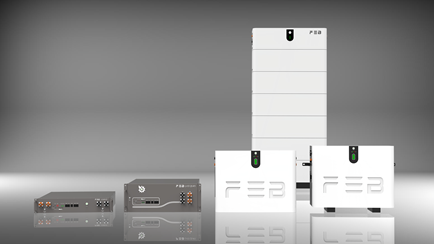 FEB ESS series
It has been 7 years since FEB engaged in the R&D of its lithium batteries including cylindrical cells and pouch cells. Thanks to the excellent performance and superior quality of FEB batteries, FEB successfully won the first residential ESS order of 43.362 million yuan from European market in September 2021, which was a great breakthrough in its marketization in Europe. Thereafter ESS business continued to surge with 228million RMB order of residential ESS from overseas market in Feb,2022, and 265 million RMB order of lithium batteries in May 2022, including 100million RMB ESS order.
Driven by technological innovation and application, FEB persistently pursue high safety and reliability in the entire production process of FEB batteries to deliver products and systems applicable to various scenarios; we will do our bit to achieve the double-carbon goals by tapping the potential of ESS market and delivering high-quality and high-reliability ESS products and services.